A
          / \      _             Play Now                         Nemesis on 
          | |     | |  _______   _        _   _______    _______   _    _______
          | |\    | | |   ____| |  \    /  | |   ____|  /   ____| | |  /   ____|
 /-------/-------------------------------------------------------------------,
O= Home <=XX|  About  News  Pics  Adventurers  Wizards  Download  Connect     >
 \-------\-------------------------------------------------------------------'
          | |   \   | |  |____  | |      | | |  |____   ___ \  \  | |  ___ \  \
          | |     \_| |_______| |_|      |_| |_______| |_______/  |_| |_______/
          \ /
           V  

The ancient Machine: a DECstation 5000/200
This is the DECstation 5000/200, where Nemesis had its 1st Revival starting in 2000/2001. The photos show the machine under Snake's couch. They were taken (with flash and without ;-) during the 1st Revival Period. The actual machine is the right box, the left one contains the disks.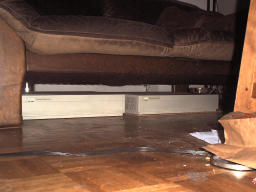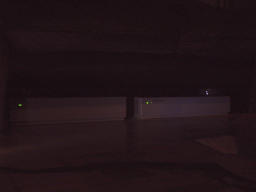 After its Resurrection in 2000/2001 the game was running first on a DECstation 3100, later on this DECstation 5000/200 with 96MB of RAM and 2 disks, driven by NetBSD 1.5.
Snake says: "No, while the DECstation was up heating costs were no problem. But the electricity bill was not so nice ..."
If you ask now, why on that old machine, Snake can tell you, it's enough and it has nostalgic reasons, as the original setup of Nemesis at the TUM was similar on a DECstation 2100 (see also History). Although it was also running on a SUNsparc, a Sun3 and a FreeBSD PC during all the years.
As said above on this DECstation Nemesis was active during the 1st Revival between 2001 and 2009, until a power loss stopped it abruptly.
For the Vintage Computer Festival Europa 16.0 (VCFe) from May 1st to 3rd 2015 in Munich, Germany, the DECstation 5000/200 was revived: After hard debugging and after it got new old harddisks, NetBSD 5.2.3 was installed and a copy of Nemesis was set up & running on it there. No, NetBSD 6.x was not possible as someone killed the bootstrap loader for PMAX (the DECstation platform) in NetBSD 6.x. Photos of the VCFe 16.0 are are online!
The photo shows the disk case already with new harddisks in it. The "brick" at the bottom of the picture is one of the old disks.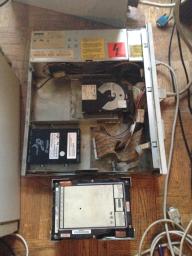 And finally two photos from inside the DECstation: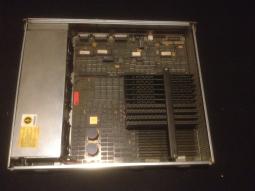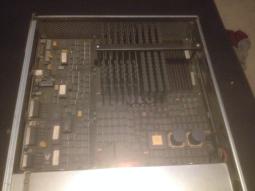 Note: Currently (since February 2015) Nemesis is running in a virtual FreeBSD machine until we find something more suitable.
---
Imprint / Impressum