A
          / \      _             Play Now                         Nemesis on 
          | |     | |  _______   _        _   _______    _______   _    _______
          | |\    | | |   ____| |  \    /  | |   ____|  /   ____| | |  /   ____|
 /-------/-------------------------------------------------------------------,
O= Home <=XX|  About  News  Pics  Adventurers  Wizards  Download  Connect     >
 \-------\-------------------------------------------------------------------'
          | |   \   | |  |____  | |      | | |  |____   ___ \  \  | |  ___ \  \
          | |     \_| |_______| |_|      |_| |_______| |_______/  |_| |_______/
          \ /
           V  

2 Tapes
Two tapes? Yes, two tapes. To be accurate: 2 QIC-150 tapes! But from the beginning ...

This story happened before the 1st Revival of Nemesis (see History). First there was only one tape. The QIC-150 tape where Snake backuped the the whole World of Nemesis, when it was stopped at the Technical University of Munich (TUM) in 1994 (again: see History).

First there was the problem how Snake could read the now old QIC-150 tape. This technology was not very state of the art.

See why it took him a while to wire that ;-)

The tapedrive - builtin to an external SCSI case: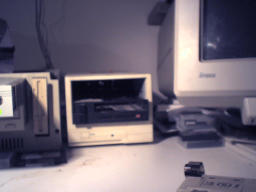 Ok, now Snake was able to read the old cartridge. For years Snake thought this is THE tape ...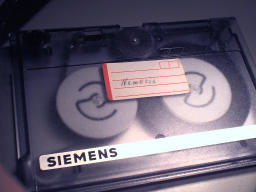 ... 'til he managed to have a view at the contents. But what he found was XFree86 1.x.something :-(

After a half hour search he found this tape:
Two tapes - both labeled "Nemesis"! Here the two tapes - the false one and the right one: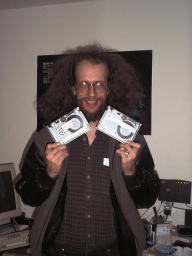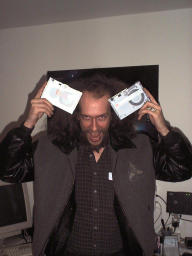 Err, which one was the right one?
---
Imprint / Impressum